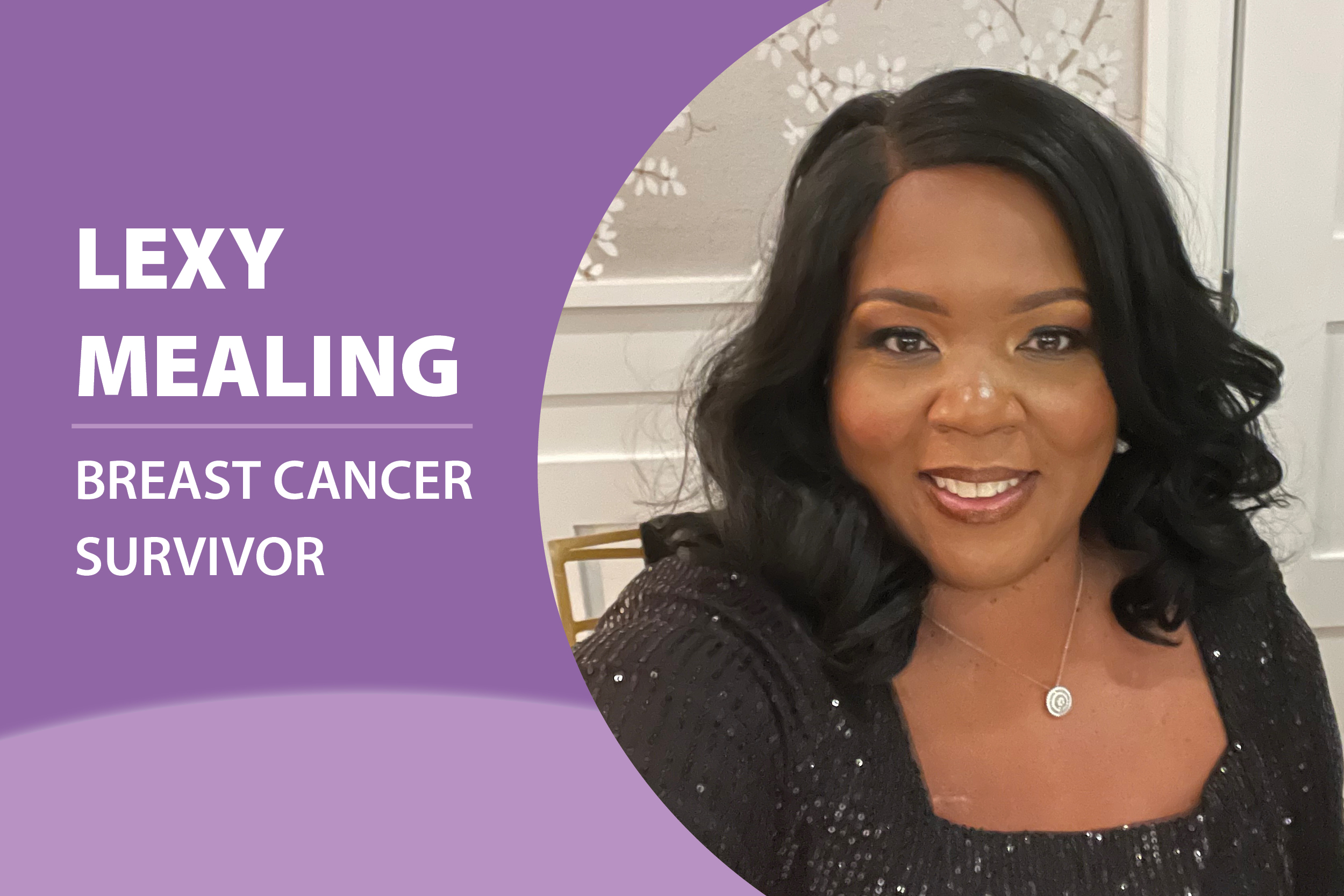 Lexy's Date with Chemo
Lexy Mealing went into every treatment dressed in the brightest colors, arriving fashionably to her appointments wearing all shades of pink, orange, and aqua blue, always with a matching bag to complete the look. The 52-year-old single mother refused to let a tough time stop her from dressing up.
"I knew I would feel so much better in my cute outfit. And I did," Lexy said, "It was my date with chemo." Her bag contained everything she would need during her treatment: apple juice, a coloring book, music, and a cozy blanket. "My team always made me feel as comfortable as possible."
Lexy was diagnosed with right lower inner breast invasive ductal carcinoma and right central breast ductal carcinoma in March 2021 after a delayed breast screening. Prior to her diagnosis, she had no signs or symptoms and was already a breast cancer and heart disease advocate, often educating her family and friends. Two months later, she had a double mastectomy with a DIEP flap and eventually underwent breast reconstruction. However, her story goes back to 2017, when she underwent breast reduction surgery.
A year after her surgery, Lexy was due for a mammogram. Like most women, she avoided it. She pushed it off until the end of 2019. The mammogram detected changes in her breasts, but her doctor explained it was common in women who've had breast reductions and to follow up in a month. A month passed, and in March 2020, Covid hit. Lexy put her breast health on hold. Eventually, she went for her follow-up appointment and received the unfortunate news that she had breast cancer. Lexy's doctors thoroughly explained her personalized treatment plan. "Everyone became like my family," Lexy said.
Once a week for twelve weeks, Lexy would receive chemotherapy. On the days she wasn't at the office, she walked 10,000 steps to stay active and energized.
Now, as a cancer survivor, Lexy offers her support to others. Since conquering her breast cancer, Lexy has returned to the workforce with a passion for helping others. She helps educate other women on the importance of regular mammograms at Pure Mammography. "If I didn't go in for my mammogram when I did, the tumor could have grown," Lexy said. She also emphasizes the importance of educating young girls on how to do self-exams. "Learn what your normal is for your body," she said. "It's ok to look in the mirror and examine yourself."
Lexy's patient advocacy journey is just beginning. In October, she participated in the American Cancer Society's Making Strides Breast Cancer Walk at Jones Beach. Lexy was excited to see everyone. "It was amazing to celebrate those who have gone before us, those who are still surviving and thriving, and to encourage those who may have just been diagnosed," said Lexy.
At the Walk, Lexy was approached by Newsday, interviewed by WBLI radio, and asked to be the keynote speaker at an upcoming press conference. Lexy could finally share her story for so many people to hear. She was invited to the NY Islanders' annual Hockey Fights Cancer game to be the honorary flag bearer.